Are you tired of having to scrape ice and snow off your windshield every time you want to drive your car in the winter? It is time consuming and worst of all you have to be out in the cold. It is an unpleasant way to start your day.
There is an easier way. A windshield snow cover can eliminate the hassles of removing snow and ice from your car.
These covers are incredibly easy to use. Just place them over the outside of the windshield. This way all you have to do before driving off, is to remove the windshield cover. There won't be any snow or ice to scrape off. Which means, you won't have to spend twenty minutes or so in the cold. You might even be able to use this extra time to sleep in or have that second cup of coffee at home.
Not all windshield covers are the same and you definitely want to buy the best one. Here is a list of the top windshield covers on the market today.
Last update on 2023-06-01 / Affiliate links / Images from Amazon Product Advertising API
10. Frostguard Premium Winter Windshield Snow Cover
This windshield snow cover features a durable polyester construction. It also has a PVC lining to help prevent it from sticking to your windshield. It not only covers your windshield but also the wipers and side view mirrors. All you need to do is remove the cover and you are ready to hit the road.
To ensure customer satisfaction with the windshield snow cover, it comes with a three year warranty. You just need to call the company's customer service number and a representative will be able to help resolve any issue you might have with the cover.
There is a storage pouch so you don't have to leave a wet cover on your backseat or in the truck.
Two security flaps help to prevent theft or the cover blowing up in the wind.
It is easy to put on in seconds and take off.
The windshield snow cover is not designed for most larger trucks.
The PVC pipes on the sides can poke through the seams causing paint scratches.
9. Amayrose Windshield Snow Cover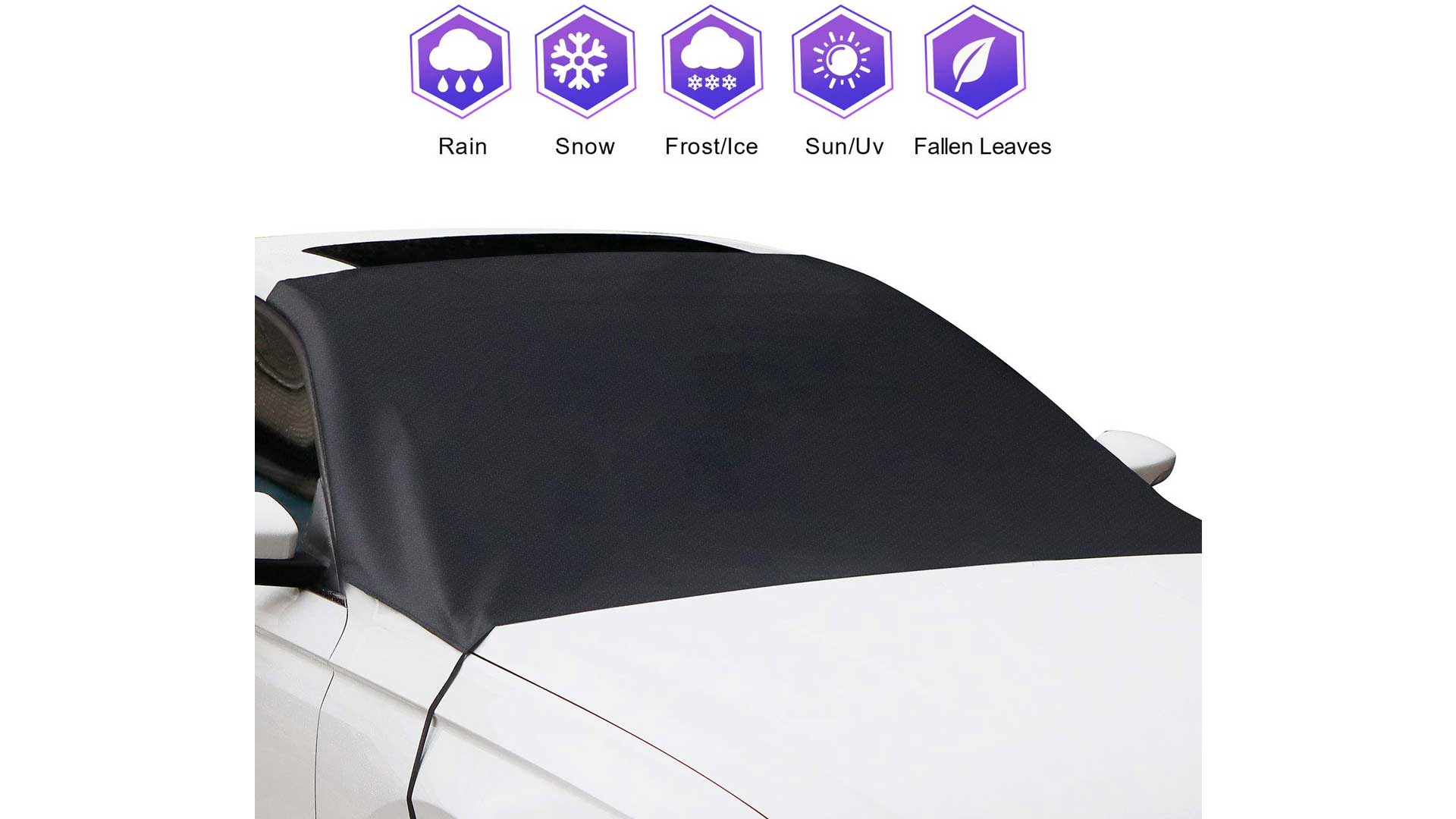 You can protect your car's windshield all year long with this durable cover. It is constructed from quality materials that are resistant to weather and wear. The windshield cover is simple to install. You won't have to be outside long to get it securely on.
Plastic hooks, magnets and elastic straps ensure that the windshield snow cover won't blow off in storms. It also comes with a storage bag and is easy to fold. This snow windshield cover can even be cleaned without any fuss.
It is easy to fold and store with the include bag.
Ideal to use in all seasons and can even function as a mat for pets or on a camping trip.
Can cover the windshields of most standard size cars, SUVs, vans and trucks.
The thin material may not be effective in areas with heavy snow and high winds.
There are magnets in the cover which can damage a vehicle's paint if it is not properly installed or carefully removed.
8. Gloue Windshield Snow Cover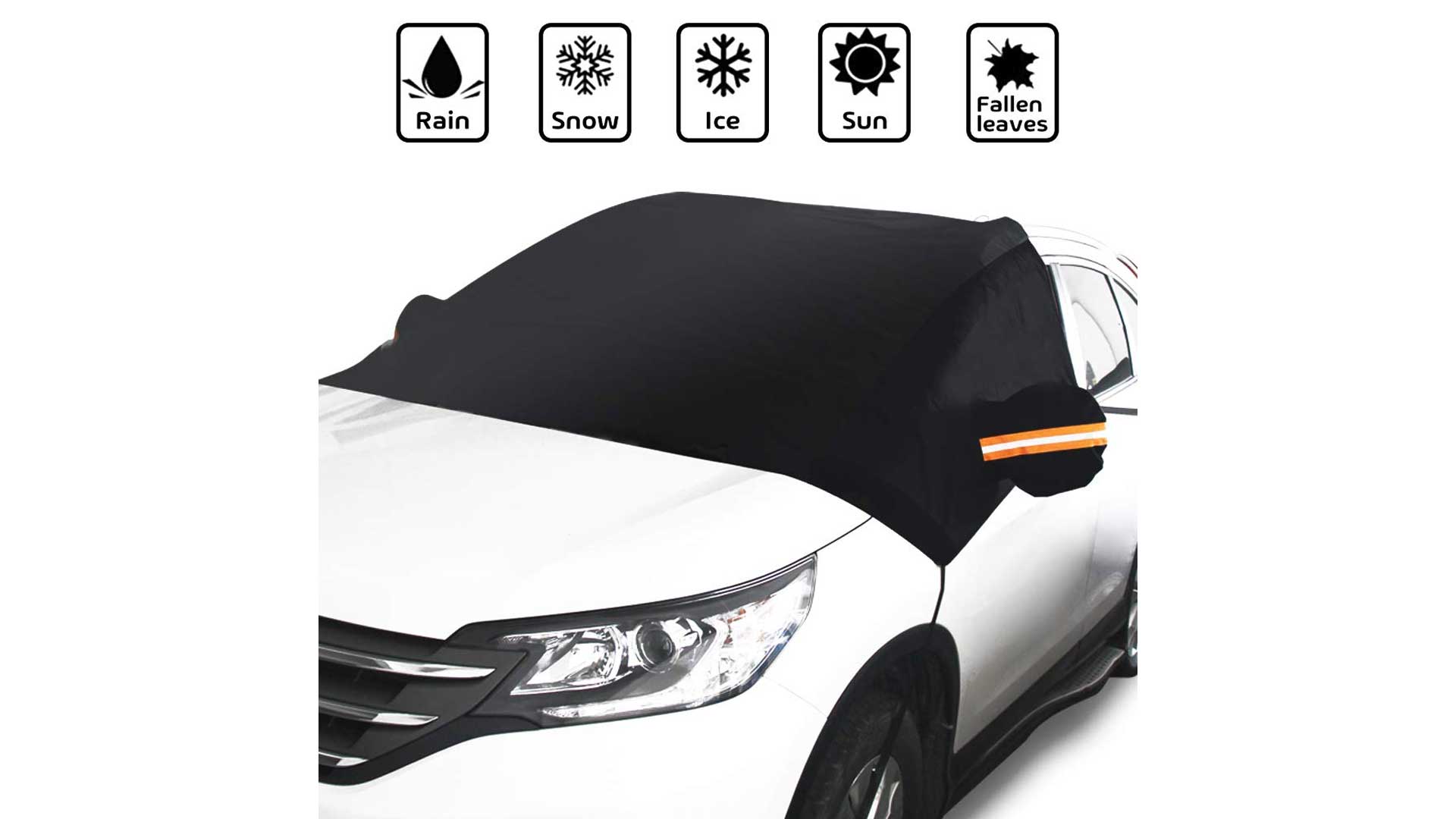 Its universal size ensures that it fits most cars and SUVs. It can even cover the windshields of some smaller trucks. It not only protects the windshield from snow and ice, but also UV rays in the summer. This is an all season cover for your vehicle's windshield.
Flaps and strips help to keep the cover firmly in place. It also has covers for side mirrors. This eliminates any need for scraping off ice and snow, making the vehicle safer to drive.
The cover is easy to install and folds neatly up for convenient storage.
Comes with reflector stripes on the mirror coverings so you can easily see to install or remove it in the dark.
Elastic straps keep the cover firmly in place, without scratching the vehicle's paint.
Over time the elastic straps can degrade causing the cover to lift in the wind.
Might not be large enough to completely cover the windshield on larger vehicles.
7. Hehui Car Windshield Snow Cover
This is a multi-purpose snow cover. Not only does it protect windshields from the weather, it can also be used to shade the car from the sun. Not only will you not have to scrap snow and ice off your windshield, the interior of the car will stay cooler in the summer.
It is simple to install. It only takes a minute or two. It is also easy to store, thanks to its foldable design. Keep it in the back seat for quick access.
4 layer material construction for maximum protection
Magnets and elastic straps keep the windshield cover firmly in place
It is waterproof to prevent freezing to the windshield
Magnets are only on the sides, not the bottom of the cover
Does not fit windshields on vehicles that are not factory standard
6. Altitaco Car Windshield Snow Cover
You can protect your car from snow, rain, leaves and other debris, even when the wind is blowing with this windshield cover. The magnet edge adheres to the edge of the windshield to keep the cover from blowing up, while still protecting the vehicle's paint.
It can be used throughout the year, no matter the season or weather. It also comes with a handy bag for easy storage. It is easy to use and can be kept securely on your vehicle with the straps, hooks and theft preventative door flaps.
Its universal fit is ideal for covering windshields on cars, SUVs and smaller trucks
Magnetic edges attach to the windshield to prevent blowing off
It is constructed from weather resistant materials for durability
Some consumers have mentioned that the straps can lose their elasticity
Does not fit all vehicle windshields, especially larger models
5. Ice King Magnetic Windshield Cover
This windshield cover is larger than some others to fit most trucks and SUVs. It is designed to be windproof. This is important if you are dealing with wind and snow. There are magnets that keep the cover securely over your windshield. When this is added to the straps, it will stay put through a blizzard or thunderstorm.
In addition there are security flaps that tuck inside your car doors or windows. The cover does come with a 30 day guarantee so you can feel confident about your purchase.
Wide, articulate sonic presentation
The magnets help to prevent the cover from blowing off your windshield
Its larger size fits most trucks and SUVs, even heavy duty ones
Constructed from durable, wear resistant materials
The magnets can scratch the paint if dragged across the vehicle
Can freeze to a windshield if it is wet when put on
4. Mitaloo Car Windshield Snow Cover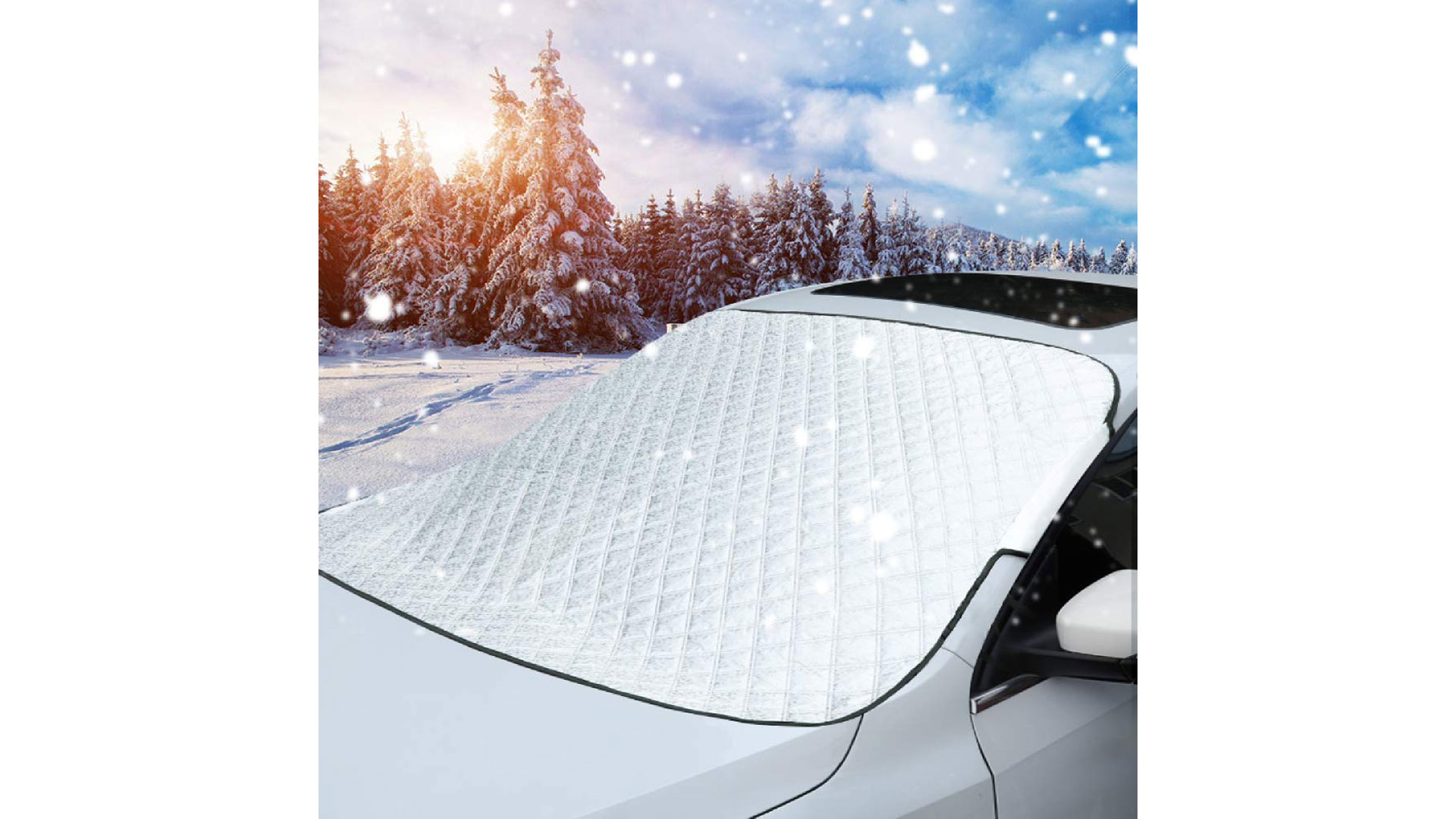 You will probably notice that this windshield snow cover is thicker than many others on the market. This is due to its four layer construction. This gives you added protection in any season. It is also designed to prevent the cover from scratching your windshield.
Installing the cover over your windshield only takes a few minutes. It is also just as easy to remove. It is sized to fit most sedans and SUVs. You'll also appreciate how easy it is to clean as needed.
3. Autoclub Car Windshield Snow Cover
This car windshield cover is sturdy, durable and larger than many others. It is designed to fit the standard windshields on trucks and SUVs. The cover is constructed from premium materials. It's three layer design ensures complete weather protection for your windshield.
It is not only designed to be wind resistant but theft as well. Straps and wheel hooks keep it firmly in place. The side flaps are designed to fit inside your car doors. Just tuck the flaps in before shutting your doors and rest assured that your windshield will stay protected.
2. Laptom Extra Large Windshield Snow Cover
This extra large windshield snow cover by Laptom is perfect for larger vehicles. It is constructed from a three layer material that ensures durability and weather protection. Not only does it protect your windshield but it also comes with coverings for side mirrors. This way you don't even have to spend time scraping ice and snow off of them.
The cover is easy to attach with the elastic straps. To prevent wind from blowing the cover off, it has hooks that attach to the wheels.
1. OxGord Windshield Snow Cover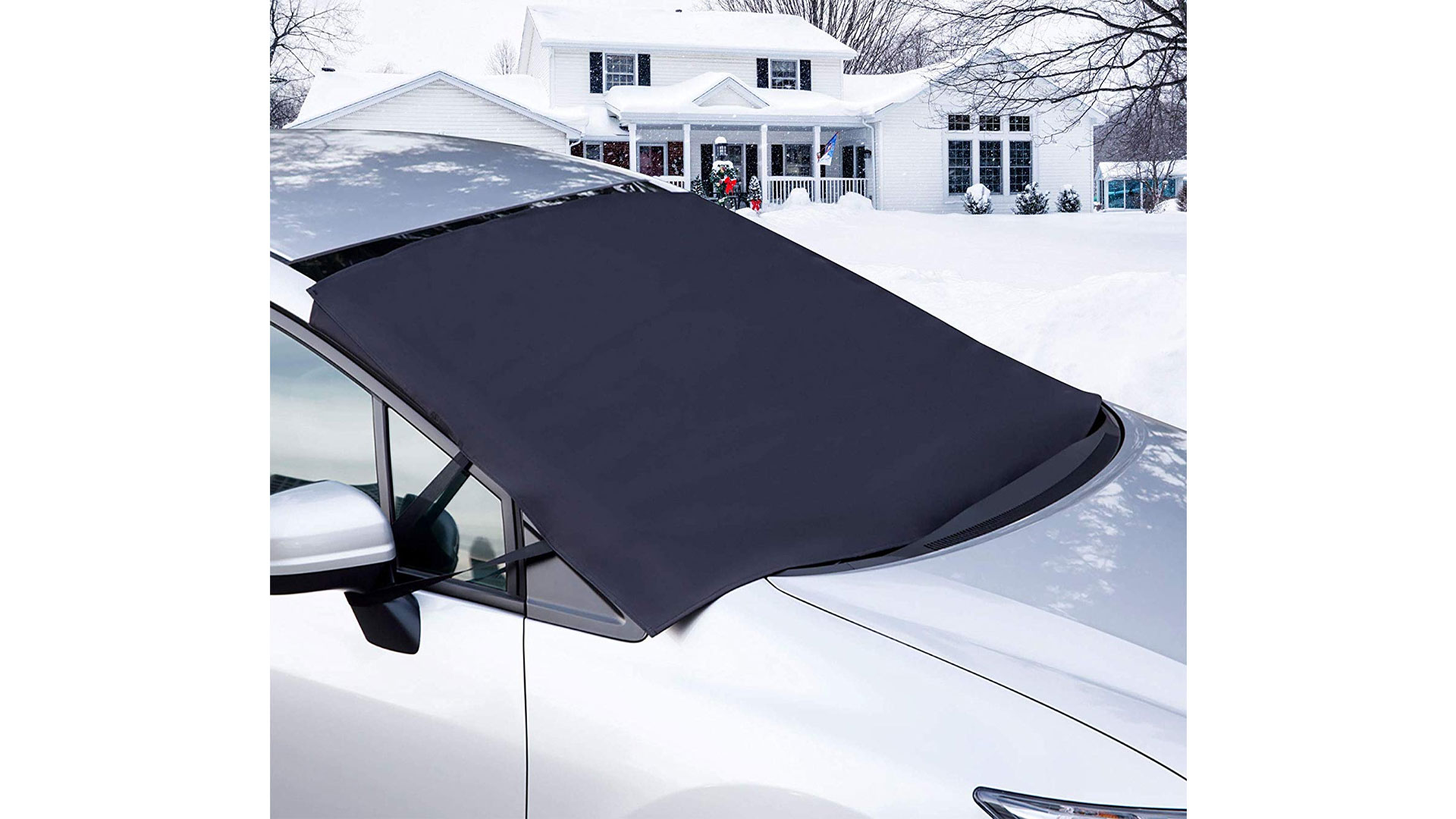 This waterproof cover is durable so your windshield is protected. It has a thermal shield that traps heat, preventing ice from forming. It is designed to be used throughout the year. In the warmer months it can keep insects, leaves and other debris from collecting on your windshield.
It is easy to install, thanks to the elastic straps. It can also be folded up for convenient storage when not in use. You can keep the windshield cover in your trunk or even on your backseat for easy access.
Provides all weather windshield coverage for most vehicles, including vans, trucks and SUVs.
It's durable construction for heavy duty polyester ensures that it will last for years.
There are side panels that fit inside the front doors to prevent theft.
The elasticity in the straps can loosen over time, preventing a tight fit.
Even though the side panels are secured inside the car by the front doors, the cover is still relatively easy to steal.
What to Look For When Buying a Windshield Snow Cover?
Durability
The seams on the windshield cover should be completely sealed. This is important if you have one with magnets or PVC poles. You don't want the cover to end up scratching the vehicle's paint. Look for covers made from materials that are resistant to all weather conditions. This includes sun and rain, along with snow and ice.
Construction
The winter windshield cover should be constructed from high quality, weather resistant materials. Some of the best car windshield covers are three or four ply. This gives you exceptional protection, while also being weather and wear resistant.
Flexibility
This might not seem that important, until it is time to store the car windshield cover. It should be easy to fold and store. The best windshield snow covers also come with a storage bag. This way you don't have to worry about moisture from the windshield cover and it will take up less space in the trunk or backseat.
Coverage and Size
The size of the snow cover determines how much of the windshield is protected. You don't want one that only covers the center of the windshield and not the sides. Snow, ice and other debris will get in. Measure your vehicle's windshield first, then start looking for a snow windshield covers that matches or even exceeds your measurements.
Brand
The winter windshield cover should be manufactured by a reputable brand. You want to be able to read consumer reviews before you purchase a snow cover. You don't want to choose one only to find out that it is poorly constructed and not able to protect your windshield.
Finding the best snow windshield cover doesn't have to be difficult. Just make sure that it is durable, constructed from weather resistant materials and fits completely across your windshield. You also want it to be easy to firmly install and a breeze to take off.
Don't forget about your wipers and side mirrors. It is best if they are also protected. This will save you additional time during the cold winter months. The last thing you want is to have to stand outside in the cold any longer than necessary.