Installing a strong firewall on the network may secure your online data from the spying eyes. But when it comes to protecting your important documents that contain sensitive information, the choices are pretty extreme. You can either keep the file of documents in a locker and keep it under surveillance, or dispose of the documents permanently, by shredding them into pieces.
Having a functional paper shredder in your office or home can help you organize the space. But most importantly, it allows you to destroy documents, beyond recovery to protect sensitive information from theft. If you want one, I can suggest you some of the most versatile shredding machines available in the market. Interestingly, they don't just shred papers. They also take care of credit cards, in case you need to put an end to your unstoppable shopping spree.
Last update on 2023-06-01 / Affiliate links / Images from Amazon Product Advertising API
Best Paper Shredder in June 2023

1. Fellowes Powershred 225i Commercial Grade Paper Shredder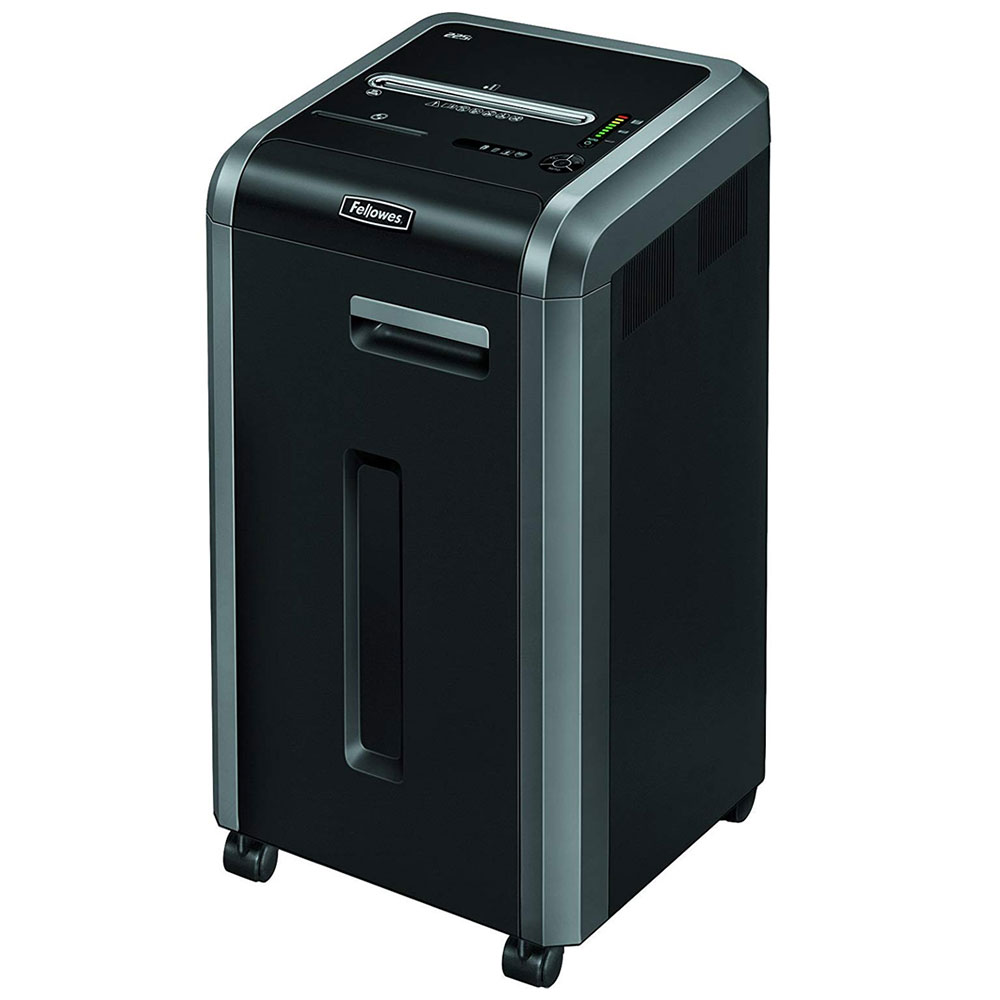 Fellowes has a number of shredding machines under their name that deserves an entry in this list. However, if I had to list one, it's definitely the
Powershred 225i
. It is ideal for the places where high-demand and continuous use is required. Some of the striking features of this product are:
In-built jam-proof technology

Three levels of shredding for precision

Can handle 22-24 papers per shred

Shreds credit cards, CDs, staples, and paperclips

SilentShred technology for minimal disruption
It may be a bit too expensive for a single user at home. However, if your office needs a powerful shredder for continuous use, this is a perfect choice.
2. Bonsaii EverShred C149-C Paper Shredder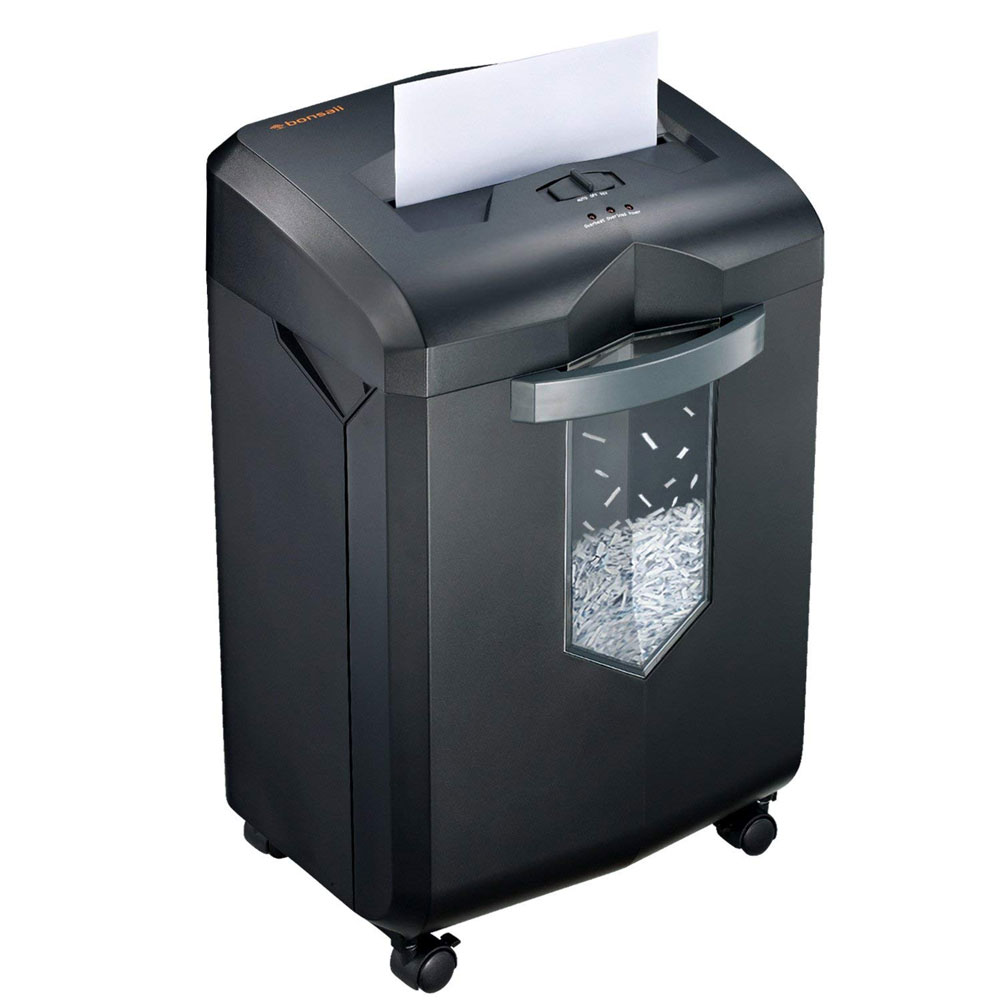 Bonsaii EverShred C149-C is another heavy-duty cross-cut shredder, that can work continuously for an hour, without a cool-down. It is also ideal for office uses. Bonsaii also has a number of products, that deserve an entry in this list. But this one stands out in terms of features.
An advanced cooling system protects the machine from overheating
Quiet motor dampens grinding and shredding noise
Can shred up to 18 sheets of A4 size papers in a single feed
Jam detection system automatically reverses paper
Cross-cut shredding can shred papers, credit cards, CDs, staples etc.
The shredder also comes with 6 gallons pull-out wastebasket capacity, for less frequent emptying sessions. It is also quite cheaper than the previous options.
3. Aurora AU1230XA Anti-Jam Crosscut Paper and Credit Card Shredder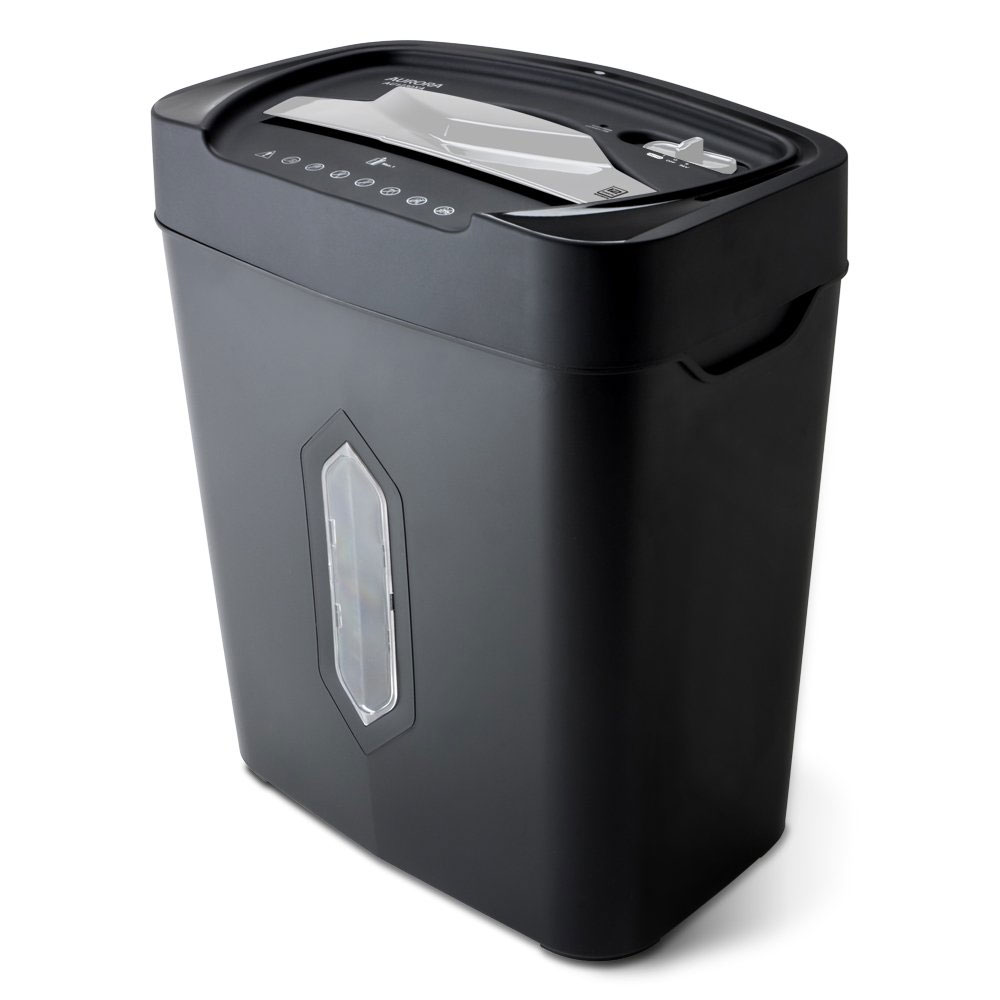 This paper shredder from Aurora is a smart addition to your home office or a small enterprise. This cross-cut shredder can turn papers as well as credit cards into tiny shreds that will pass P3 level security protocols. Some other features of this machine include:
LED indication for overheat and standby
Auto, Off, forward and reverse power modes
Can shred a dozen sheets in a single feed
Anti-jam auto-reverse offers smooth operations
Comes with 5.2-gallon disposal basket
It is ideal for small uses, for not more than 5 minutes, in a go. It's priced pretty low, compared to the other options mentioned in this list.
4. AmazonBasics 12-Sheet Shredder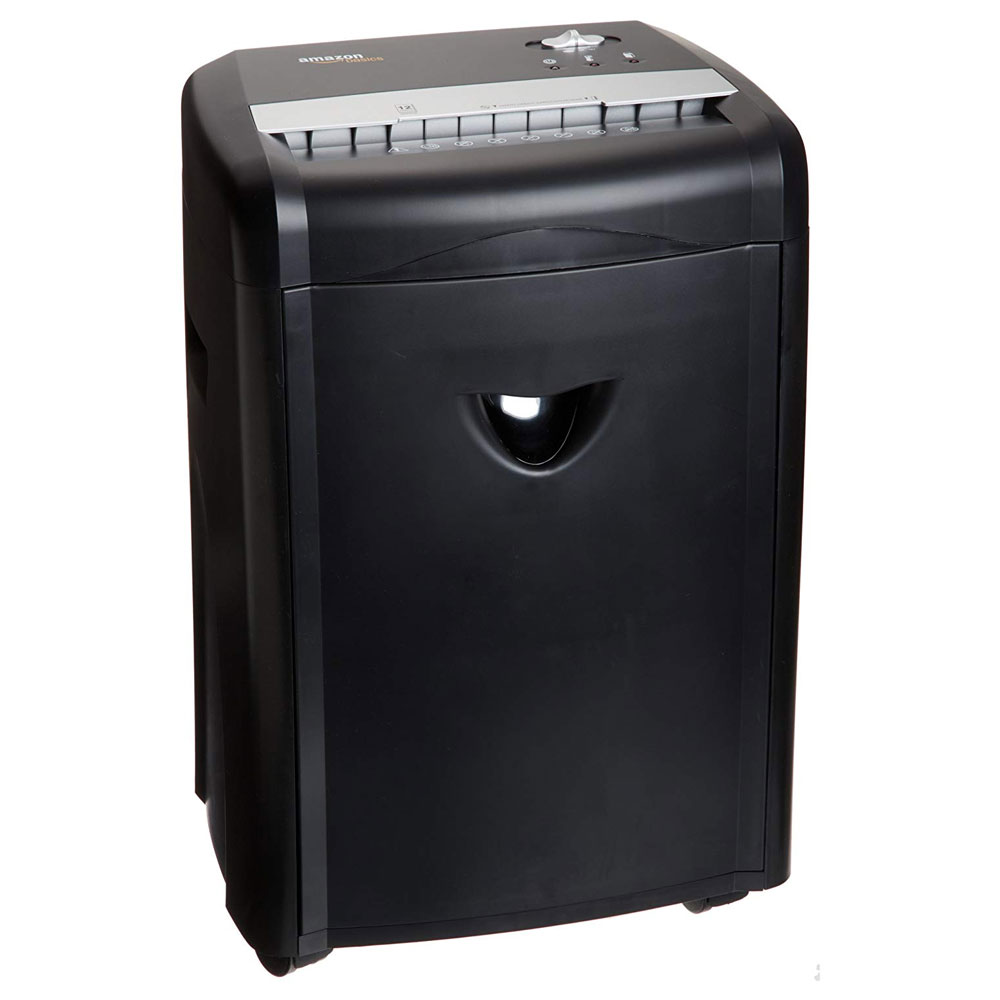 This 12-sheet shredder from Amazon's in-house brand is definitely worth mentioning because of its value for money offerings. Available at under $100, this cross-cut shredder can be useful in both home and office environment. Some of its features are:
Shreds a dozen of sheets in a single feed
Auto start and manual reverse to clear paper jams
Shreds credit cards, CDs, paper clips and staples
5 minute run time with 30-minute cool-down time
Comes with a 4.8-gallon disposal basket
Clearly, it's not for heavy-duty continuous use. But at a lower price, this shredder can be quite useful.
5. Fellowes Powershred W11C Paper and Credit Card Shredder
It's another entry from the house of Fellowes, that can turn sensitive materials into untraceable pieces of confetti. This shredder boasts advanced safety measures, that make it one of the top options in today's market. It also offers the following features:
Can shred up to 11 sheets of papers, credit card, and paper clips in a single feed
5 minutes runtime with 20 minutes cool-down time
Safety lock mechanism protects fingers
Comes with 4.75-gallon disposal basket
If you have it at home, you can enable the safety lock feature to keep your kids from shredding their history assignment help even if they want to.
6. Swingline Stack-and-Shred 230X Paper Shredder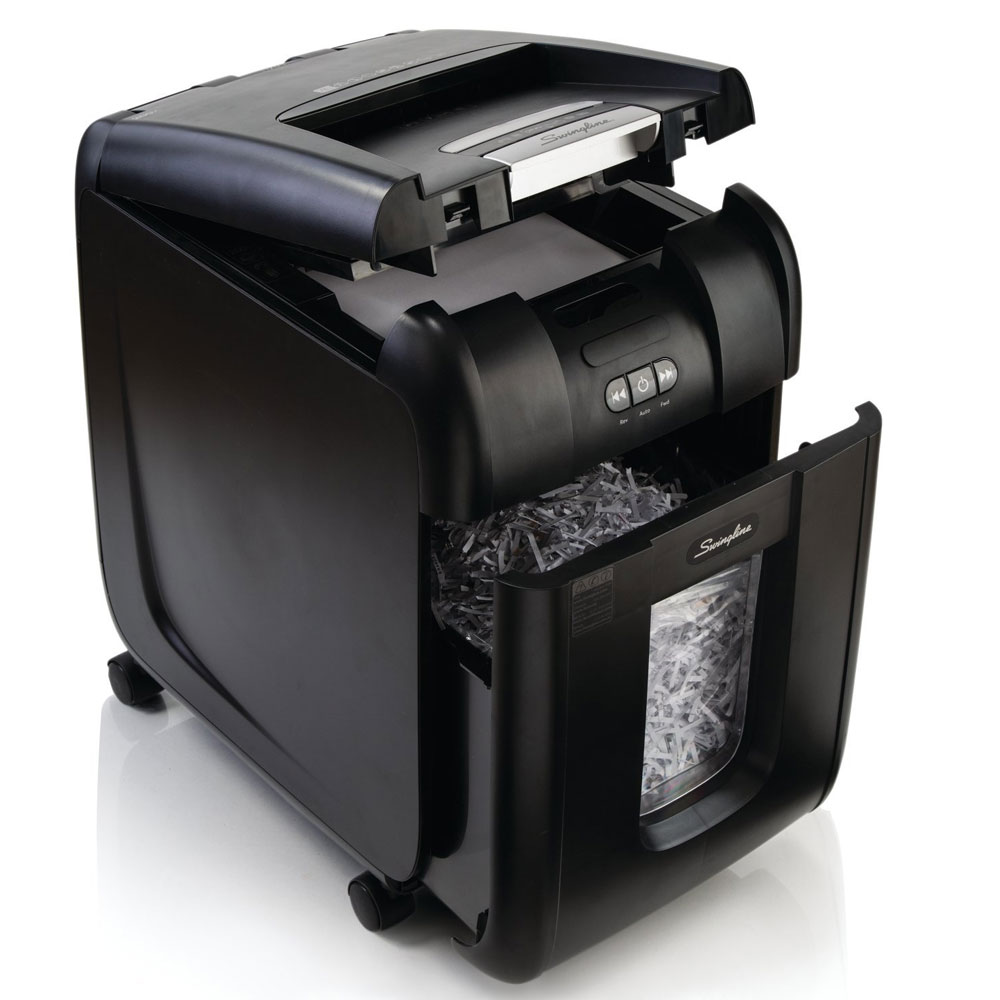 This is another premium quality shredder that can be used in the companies of all sizes. It saves you a lot of time as you can simply place up to 200 sheets in the machine and shut the lid.The machine takes care of the rest. Some of its features are:
P4 level security shredding pass
Intelligent auto-jam clearance feature
Reduced energy consumption owing to auto shut down
Manual shredding of credit cards
Dedicated auto-feed tray lot for CDs and DVDs
It also comes with a 9-gallon disposal basket. It's ideal for office uses. However, you can also bring it home if you have the budget.
7. Royal Micro-Cut MC14MX Paper Shredder
Royal is a reputed brand that was once the market leader in manufacturing typewriters. The company has now moved to manufacturing modern-day equipments to fulfil the 21st-century concerns. Its 14-sheet shredder does offer some great features at a reasonable price.
Can shred 14 sheets in a single feed
Separate slots for credit cards, DVDs and CDs
Auto-start feature to save time
The bin can hold the shreds of 575 documents
This serious shredding machine is a great fit for large companies.
8. HSM Shredstar X17 Cross-Cut Paper Shredder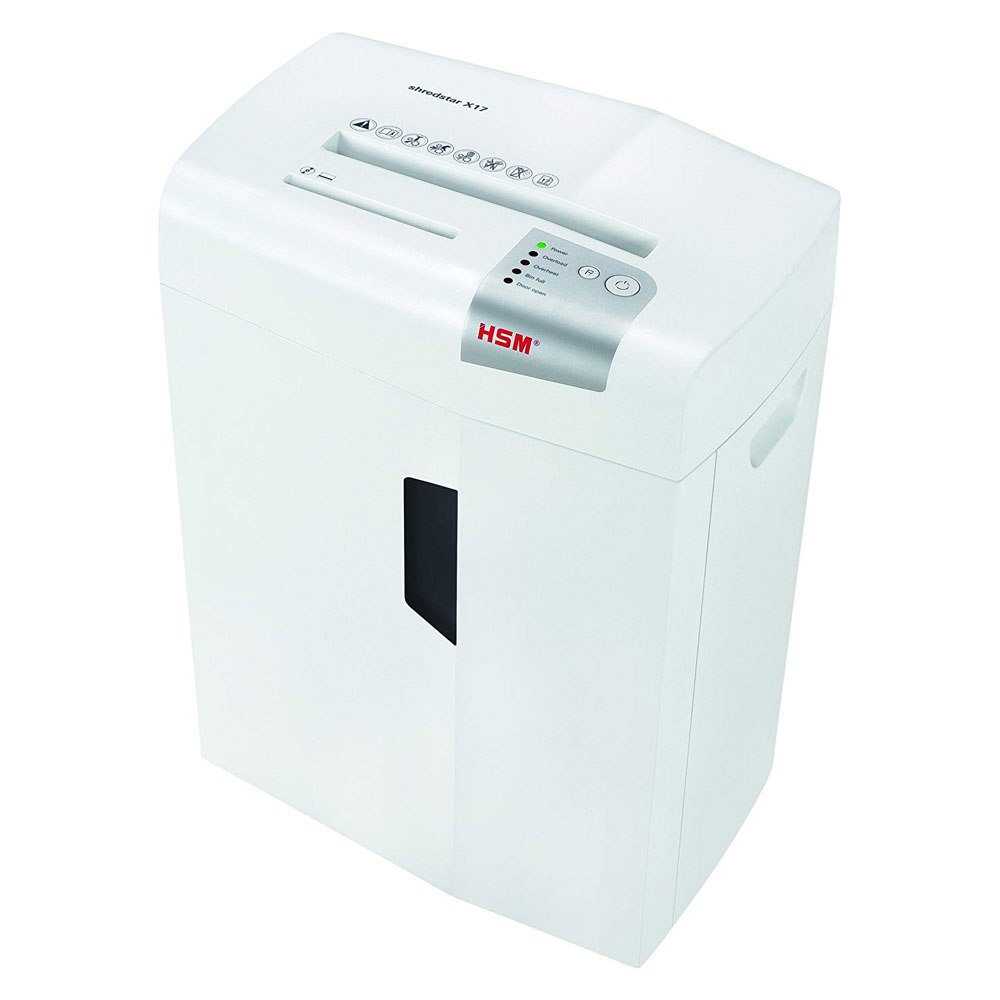 It is definitely one of the best looking shredders in the market. HSM is a reputed brand that apparently donates $2 from every sale to charity. However, if you consider their product, it also packs a strong punch.
Shreds up to 17 sheets, credit cards, CDs and DVDs in a single feed
The LED indicator shows the status of the unit
Boasts a separate CD cutting slot
Minimal noise production
The unit comes with a 6.9-gallon disposal basket. And it's ideal for 1-5 users in an office environment.
9. Bonsaii Docshred C156-C Paper Shredder
This micro-cut paper shredder from Bonsaii is a great fit for home offices and personal use. It's an affordable option for a shredder and can be quite useful for small to medium companies as well. Some of its functions are:
Shreds up to 8 sheets in a single feed
Can shred credit cards, CDs and DVDs
Auto start and manual reverse to clear paper jams
4-minute run-time with a 40-minute cool-down time
The shredder comes with a 5.5-gallon disposal basket.
10. Comet CM-M07CD 7 Sheet Micro Cut Paper Shredder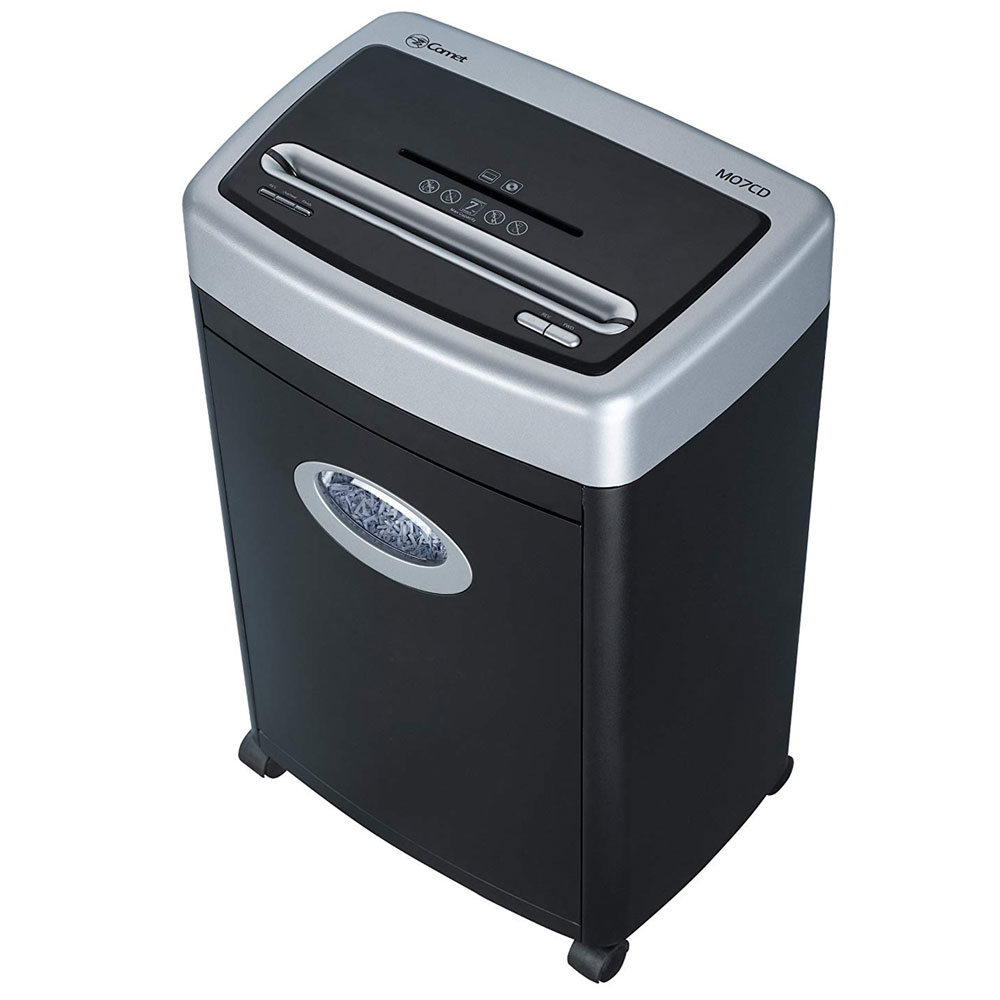 The Comet CM-M07CD micro-cut shredder may be the last entry in this list, but it has all the features that a top shredding machine in 2020 should have.
Shreds a dozen of sheets ensuring P4 level security in a single feed
Can easily chew through credit cards, CDs and DVDs
Runs on induction motor, offering a quiet operation
Auto-reverse system to avoid jams
Safe touch technology and LED indication for safer use
It also comes with a 4-gallon disposal basket and is ideal for home or small offices.
Every shredder mentioned in this list can shred sensitive documents in to tiny pieces that cannot be put back together. Now, it is up to you which shredder you want to buy. I would recommend you to list your requirements first and then narrow down your choices. If you are running a startup, buying a premium shredder like the Fellowes Powershred will not be a good decision. Security is important, but you also need to focus on sustainability, while buying the shredders.
William Shell a Writer and Enthusiastic blogger. He is also associated with a reputed company for the past couple of years. Here, he deliver financial accounting assignment help to students on their requests.