Portable fish finders also called sounders in some parts of the world, are instruments used to locate underwater fish, using sonar e.g. sound energy. Most fish finders are built into boats; portable fish finders are temporary additions to boats, piers, tubes, etc – anything you desire to use while fishing. There are several different models that can be of great use to any fisherman – Portable, Castable, and Mountable.
Portable fish finders
are the most traditional and most often used type of fish finder. Most who buy it receives a case that contains all of its components e.g. fish finder unit (small, no more than 3 to 7-inch screen), a rechargeable 12V battery, portable transducer, and a plastic mounting base.
Castable fish finders are even smaller than the portable fish finder – for very good reasons. Instead of it being contained in a single unit, this fish finder uses a floating transducer and a smartphone app to track fish. Most people who use this option fish on the bank, but it can be used for those on boats.
Mountable fish finders are fish finders that can be temporarily mounted on boats – either on the side or the transform of the boat. It also has the added bonus of being able to be used with an inner tube floatie.
Last update on 2023-10-02 / Affiliate links / Images from Amazon Product Advertising API
1. Garmin Striker 4 with Transducer GPS Fish Finder
Garmin Striker 4 fish finder
comes with a Garmin CHIRP (77/200 kHz) transducer – this high-frequency sonar technology enables you to see clear, near-photographic images of the water around your boat. You will be constantly aware and informed of any fish, structure, and objects nearby.
This device uses a waypoint map to locate and mark out areas in water that contain stumps, docks, and brush piles. Also uses CHIRP Sonar to create better and crisper fish arches for target separation.
As a bonus, this device is relatively simple to use. The IPX rating is 7. Also contains a built-in flasher – which makes it easier for you to view your sonar data.
If you want to use it for kayak, canoe or ice fishing you'll need a portable kit. It is sold separately and includes a sealed, rechargeable battery with charger, built-in transducer cable management and storage and suction cup transducer mount and float.
3.5-inch color fishfinder with built-in, high-sensitivity GPS
This device can be fully submerged in water
Relatively inexpensive
Built-in flasher to view sonar data easily
Waypoint map and sonar technology helps you avoid dead areas quickly and find fish
Convenient keypad operation
Includes CHIRP (77/200 kHz) sonar transducer; transmit power (200 W RMS)/(1,600 W peak-to-peak)
Upgrade to high performance CHIRP with a GT8 or GT15 transducer (each sold separately)
Is not easily added to a kayak or canoe or for ice fishing; will need to buy an additional portable kit.
Not easy to use for first-timers
What's in the box?
In the box you'll find: Garmin STRIKER 4 Unit, dual-beam transducer, transom and trolling motor mounts, tilt/swivel mount, power cable and documentation.
2. LUCKY Handheld Fish Finder with Sonar Transducer and LCD Display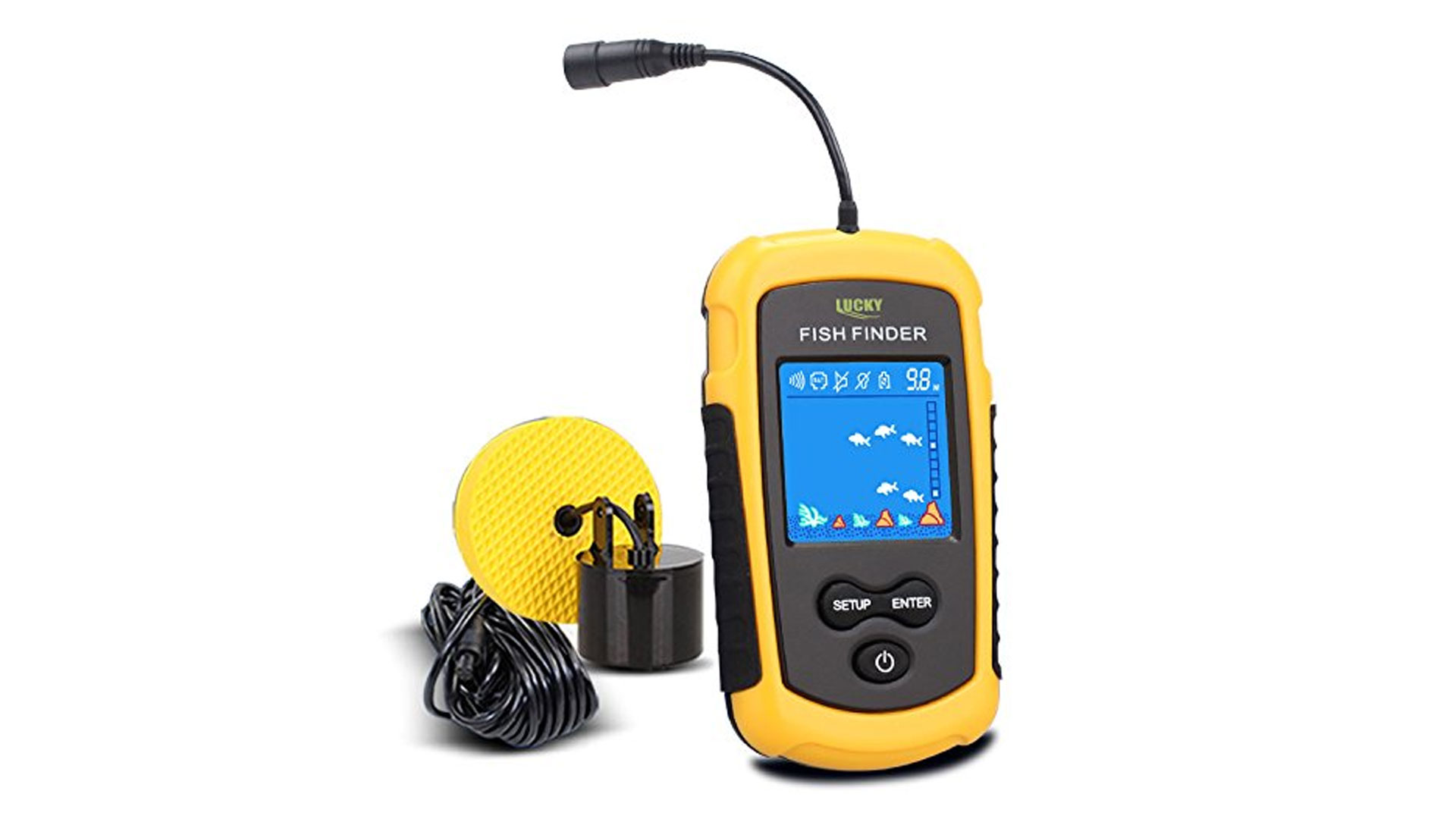 LUCKY Handheld Fish Finder
is able to detect and display the location of the fish, water depth, and whether there are sand or rocks at the bottom of the water area or if there are short and tall weeds. It can be used during a surprisingly wide variety of fishing e.g. sea fishing, kayak fishing, ice fishing, shore fishing, and can also be used as a moving fish finder if the fisherman is on a kayak that is moving less than 5 mph.
Its portable detection cone range is less than 45 degrees underwater, and its sonar detection technology can be used to penetrate the water from 3 feet (1 meter) to 328 feet (100 meters). The sonar transducer has the option of using a floatie.
This device has 5 sensitivity options, has a battery saving mode, and can take 4 to 5 hours of continuous use if using fresh batteries.
Very inexpensive and affordable; perfect for a fisherman who is trying to familiarize themselves with the technology
Can be used in almost any scenario
Several sensitivity modes that you can adjust to your specifications
Battery power seems to be low (4-5 hours of continuous use is recommended)
3. Venterior VT-FF001 Portable Fish Finder with Sonar Sensor Transducer and LCD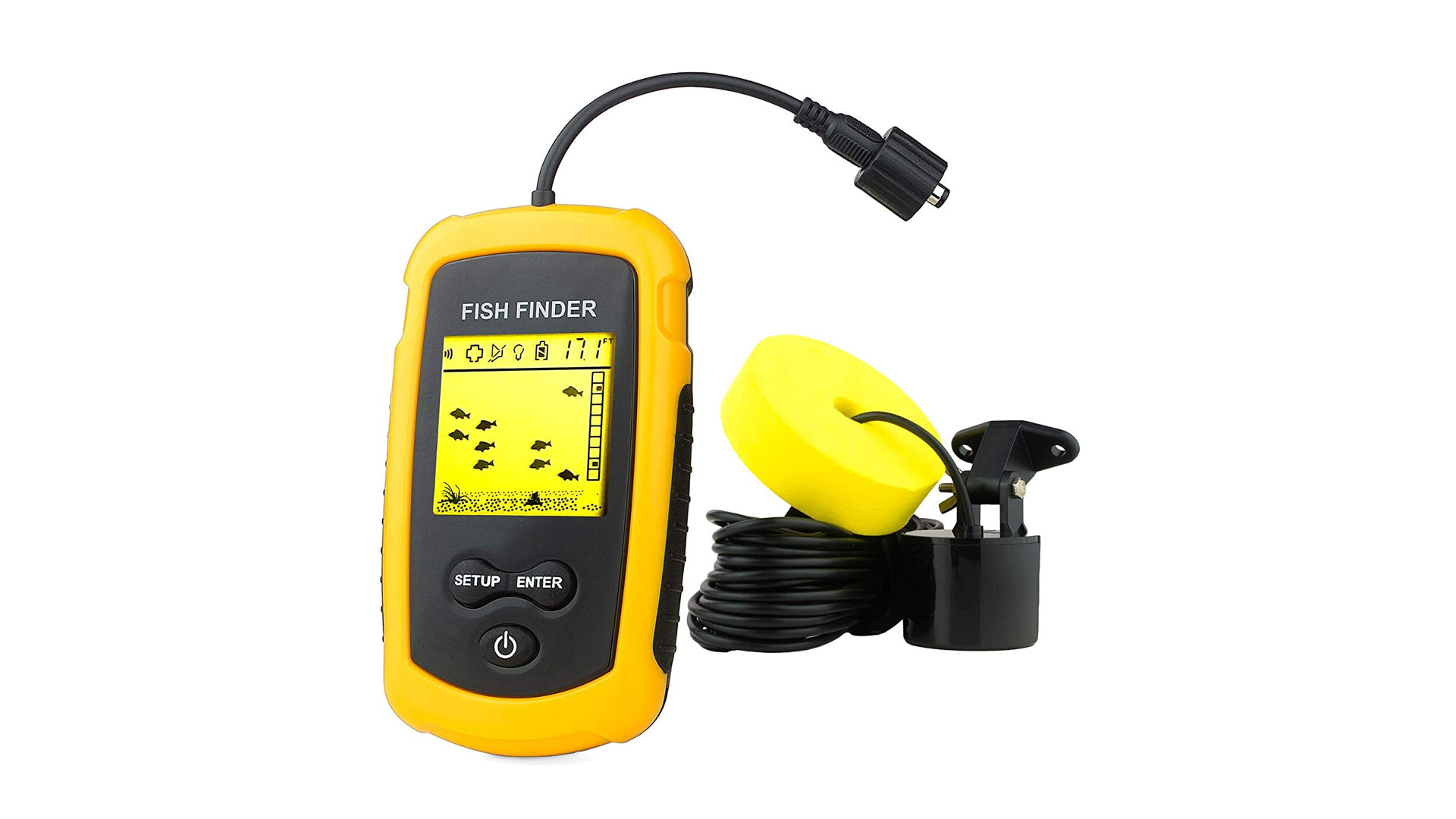 This device
is able to show you your surroundings – whether there are rocks and sand at the very bottom of the lake bed, tall or short weeds, depth of the water, and the location of the fish.
It is also a very versatile device, as it can be used to fish in any situation e.g. lake fishing, boat fishing, shore fishing, and ice fishing. It comes with a round transducer (with a 25-foot cable) and a removable transducer float.
The water range that can be detected is from 3 feet (1 meter) to 28 feet (100 meters). It also has a blacklight mode, fish alarm, and a battery saving mode.
Very inexpensive, so the inexperienced fisherman can use this to experiment with
The detection range of 3 feet (1 meter) to 23 feet (100 meters) underwater
Comes with a transducer float that is removable
A versatile device that can be used under virtually any circumstance, no matter where you want to fish
Battery life could be better; users will have to bring extra batteries if they plan to fish for longer than 4 or 5 hours
4. Garmin Striker 4cv GPS Fishfinder with CHIRP Traditional and ClearVu Scanning Sonar Transducer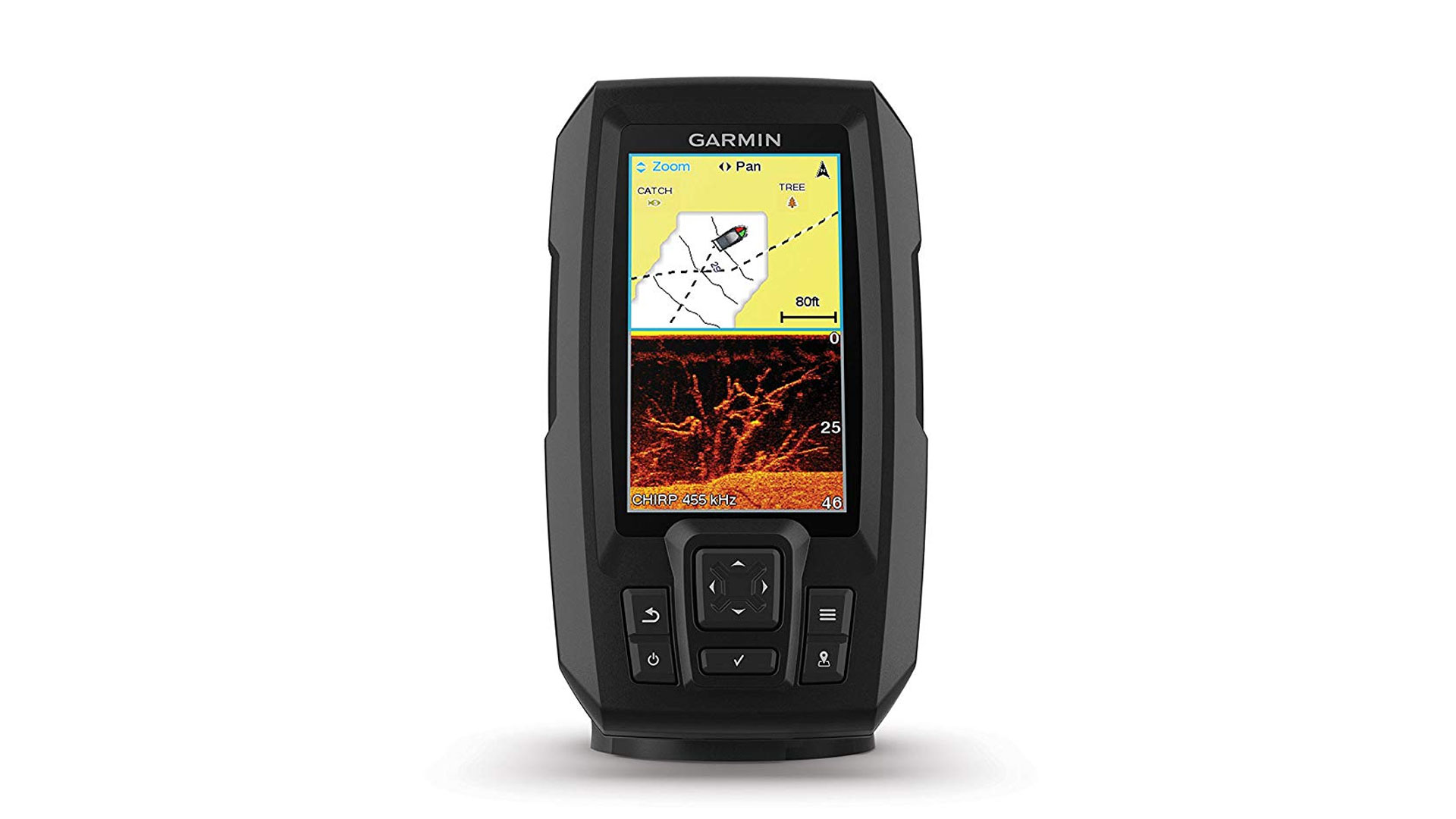 Garmin Striker 4cv
contains a transducer that was built specifically for the Garmin CHIRP traditional sonar technology, as well as the CHIRP Clearvu Scanning Sonar technology – both of which were built into the device.
The Garmin Quickdraw Contours is a mapping software that is also built into the device and allows you to create and save maps with 1' contours, up to 1 million acres of material. The built-in GPS system also allows you to mark where there are waypoints, continually evaluate your current speed, and create customized routes.
The display is 4.3" and can be used in any fishing environment you find yourself in e.g. shore fishing, ice fishing, lake fishing, and kayak fishing.
Moderately priced, although not terribly expensive
Designed to be used in harsh environments, like ice fishing, and can be submerged underwater
Mapping software and the GPS allow you to create your own maps and routes and mark out dead areas
Small display, could be larger
What's in the box?
In the box you'll find: Garmin STRIKER 4cv Unit, transducer, transom and trolling motor mounts, tilt/swivel mount, power cable and documentation.
5. Deeper Smart Sonar PRO+ GPS Portable Fish Finder for Shore and Ice Fishing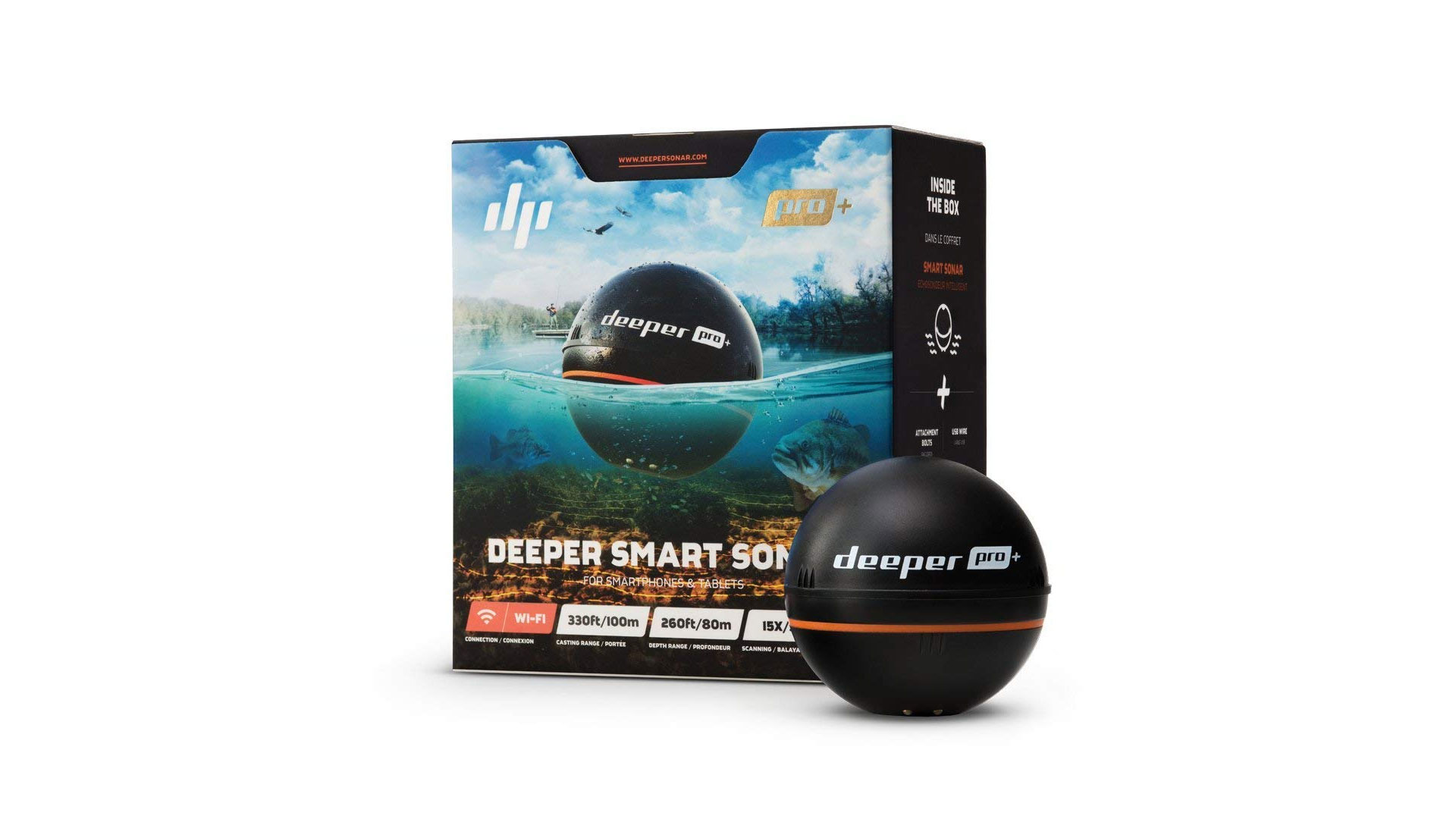 This device is a castable fish finder, mainly used by shore fisherman. It uses wireless technology to find the fish quickly, and also inform you of their size, the water's suspended depth that they are in, as well as its structure, temperature, contour, hardness, and possible vegetation.
The Deeper PRO+ uses a built-in GPS system to help the fisherman create bathymetric maps on the shoreline. Users who buy this product also have free access to a book (Lake book) platform on bathymetric map management.
Using this feature, you can review, save, and analyze any data you collect while in the comfort of your own home.
It can cast up to 330 feet and can analyze up to 260 feet underwater. It uses dual beam sonar frequency and has a 55-degree wide beam and a 15-degree narrow beam.
Moderately priced, but not wildly expensive
Uses wireless technology to find fish and inform you of their surroundings quickly
Use the Lake book feature to review and analyze maps for the next time you fish
GPS system allows you to create personalized maps a routes
The battery has to be fully replaced once a year, and can only be sourced overseas
Can only be used by shore fishermen
What's in the box?
In the box you'll find: Deeper Smart Sonar PRO+, attachment bolts, USB wire and neoprene pouch.
6. ReelSonar iBobber Wireless Bluetooth Portable Fish Finder
The
Reel Sonar Smart Fish Finder
uses patented sonar technology to locate and detect fish. It also uses iBobber fish-finding technology to help make the fisherman's job easier – it can be used with a wide variety of apps that are possible to use because of the Bluetooth pairing technology.
The GPS spot tagging app allows you to make maps, while the Trip Log app allows you to mark what happened on your trip e.g. the location where you found the fish, the conditions (water depth, structure, etc), the species and how many fish you caught on that particular fish. It also contains apps for the weather and the lunar calendar. Fishermen can use the fish and strike alarms and can choose between using fish tagging and raw sonar.
The sonar technology guarantees that you will get a structure and contour map of the area you are fishing in.
Very inexpensive, perfect for first-timers who aren't familiar with any fish finding devices or experienced fishermen that want to try a new device out for the first time
Great battery life
Uses Bluetooth technology to pair several apps; can be used by Google and Android users
The signal is not great; can loose conection
What's in the box?
In the box you'll find: Realsonar iBobber, USB wire.
7. Lowrance HOOK2 5 Fish Finder with TripleShot Transducer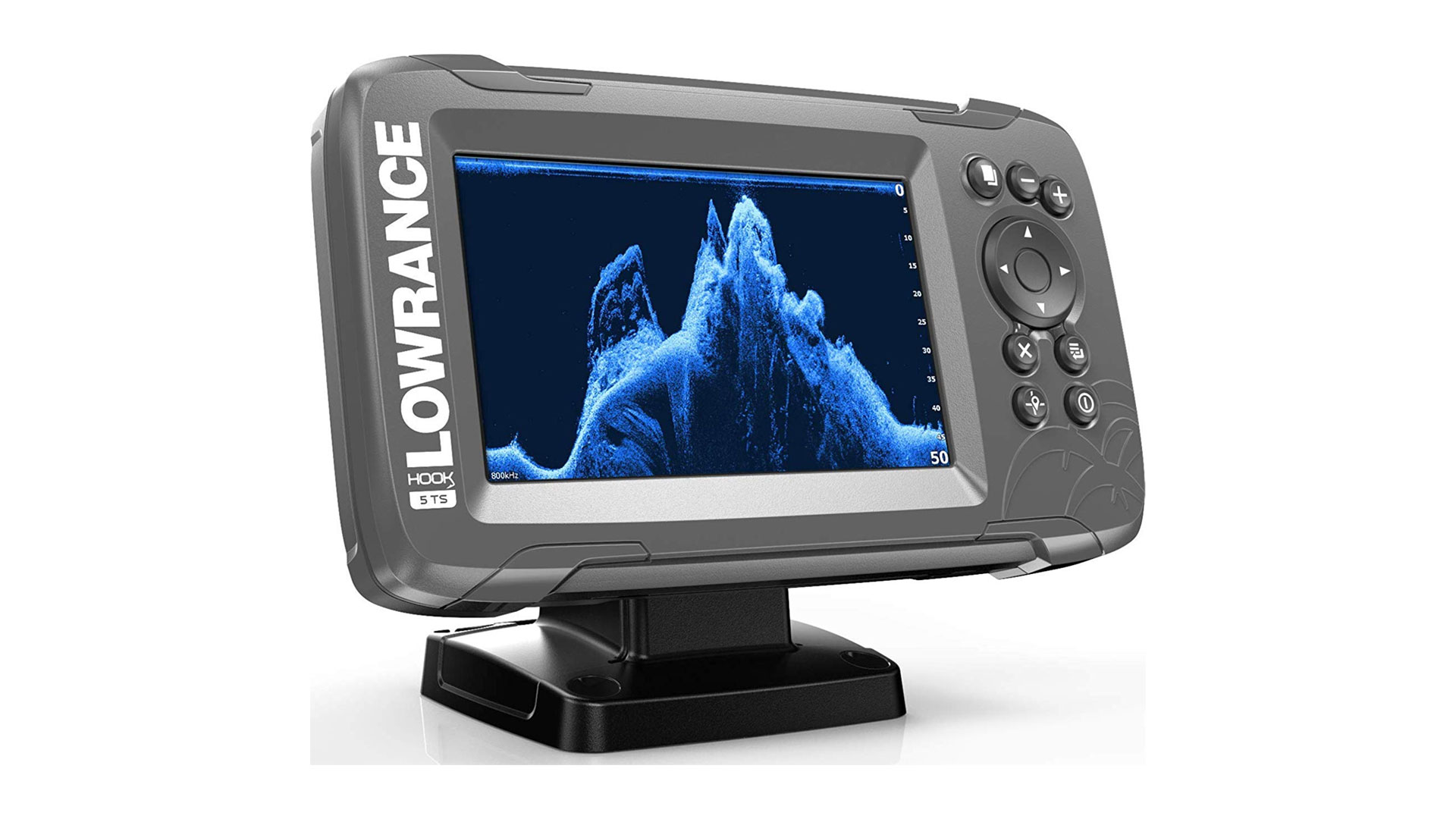 The
Lowrance HOOK2
boasts of its ease of use, as its sonar technology acts automatically and its display screen gives you predetermined menus that ensure that you spend more time fishing and less time fiddling with the screen.
This device uses a TripleShot transducer, which enables DownScan sonar (straight down), SideScan sonar (300' on each side), and CHIRP sonar (fish arch) views. Its use of the CHIRP sonar cone ensures that this device offers you a wider sonar cone degree of distance, around twice the net of the traditional fish finders.
This fish finder is very easy to set up, all you have to do is mount the single transducer on either the inside of the hull, the scupper hole, or the trolling motor.
Also comes with a built-in inland map of the United States that features 4,000 lakes.
Comes with an SD card that can be upgraded as technology changes and grows
Allows multiple views and information gathering, using sonar technology
Easy to use, no customization needed
Expensive; should only be used by experienced users of fish finders
Limited to usage on kayaks or small boats
What's in the box?
In the box you'll find: Lowrance HOOK² 5 Unit, 1 Set of 3 x 3-amp Fuses, TripleShot Skimmer Transducer, Cruise 5 Bracket, Cruise Power Cable, TripleShot Transom Bracket.
8. Humminbird HELIX 5 Portable Fish Finder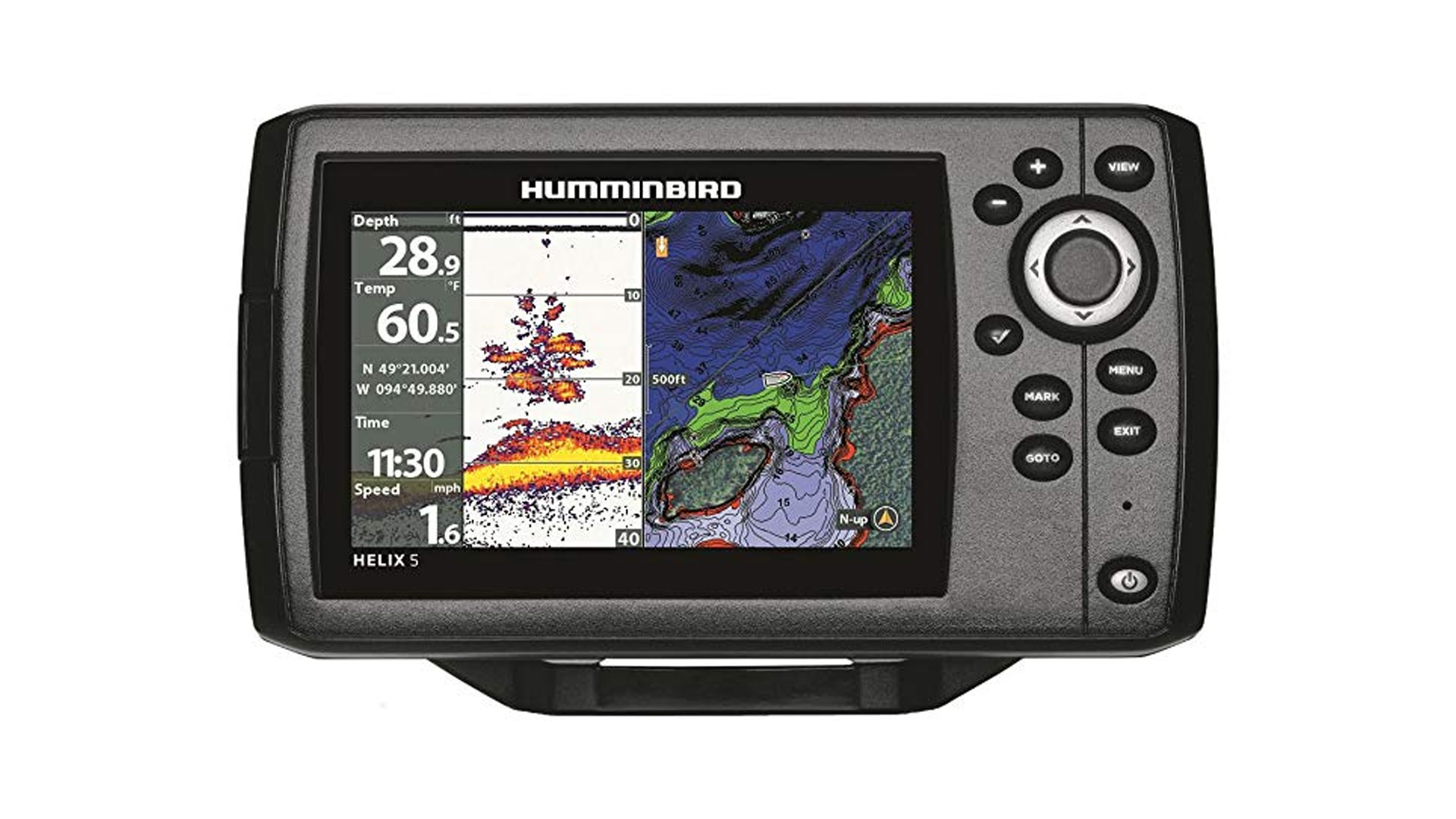 The
Hummingbird HELIX 5 Fish Finder
is a compact fish finder that contains a 5-inch color WVGA display. It contains CHIRP Dual Beam PLUS sonar technology, to track down and locate fish, as well as analyze their surroundings at the bottom of the lake.
This device also contains a Precision Internal GPS Chart, with Anima cartography that has been built into the system. This gives you information about the body of water's contours, depth, and marks various hazards. It also uses imaging and side imaging to produce this information.
There is also a Micro SD card slot for any upgrades the device might need, for use of saving maps or waypoints.
The Hummingbird HELIX device ensures that your target separation is at least 2.5". It also comes with a transducer, mounting hardware, and a gimbal mounting bracket.
Can easily locate fish and analyze their surroundings to the bottom of the lakebed and otherwise
Can be upgraded whenever technology improves, thus improving the lifetime usage of the product
9. Deeper Start Smart Castable Fish Finder
The
Deeper Start Smart Fish Finder
is the perfect device for casual fisherman or those who are on family vacations and want to try out a fish finder device for the first time.
This device uses Smart technology with WiFi, meaning you do not need mobile data or the internet to use this product. This device casts down to 165 feet and casts out to 165 feet with a 40-degree sonar beam.
It contains an app called Deeper, which displays vegetation, water contour, depth and size, and the location of fish. This app can be downloaded for free and is updated on a monthly basis.
Every time this device scans the water, the location and findings are saved into its system for deeper analysis. This device features a lightweight, sleek design that makes it easier to cast and easy to reel in. It has a 6-hour battery life but needs 2.5 hours to recharge.
Relatively inexpensive, great for first-timers
Has its own hotspot and collects your data instantly through the Deeper App
Lightweight, sleek design for easy use
Short battery life, with the recharge time nearly half of the life
10. Humminbird Helix 7 Fishfinder
This new iteration of the
Hummingbird Helix Fishfinder
series is a godsend to the experienced fisherman that has been waiting for an upgrade to their devices. This device boasts a 7" screen, with a color TFT display, as well as a split-screen display menu.
It also comes with a Navionics+ SD card, which offers an unprecedented amount of information on over 21,000 lakes and water bodies in the United States and Canada.
Utilizes both Mega Side Imaging (can view within 125 feet on either side of the boat) and Mega Down Imaging (can view 125 feet below the boat) with crystal clear picture and images. Comes with a transducer, power cable, and mounting bracket. The GPS Speed app and an LED backlight finish off this Bluetooth enabled fish finding device.
Comes with a built-in Rolodex of information of all the lakes and water bodies in North America
Contains crystal clear imaging on either side and below the boat
The software can be upgraded due to the SD card
Expensive, for use of only the most serious and experienced fishermen
Can only be used in Canada or the United States specifically because of the Navionics+ SD card
Portable Fish Finder Buying Guide
It can be difficult to search for a fish finder that's right for you – there are so many different variations to choose from, and perhaps you are not familiar with all the
technology and tech
talk involved, which can seem intimidating.
There are so many different types of transducers, echoes, flashes, sonars, that it can be hard to keep track of what's important and what isn't. To help you, here is a buying guide to help you decide which aspects of the portable fish finder that you want to use are essential to your needs while fishing.
Transducers
are very important to your portable fish finder and every fish finder has one, as their main function is to send out sonar waves, which bounce off of objects underwater and provide you with a clear picture of where the fish are and aren't congregating to your benefit. Transducers are made with several different mounts, that range from being easy to install, to very difficult.
The transom mount is the easiest to install; the thru-hull mount is for larger boats and is the most difficult to install.
The type of material used in the transducer you buy will depend on the type of boat you use. If you are a casual, yet eager fisherman, then using a plastic transom mount is fine. You can use these on almost any type of boat. Most recreational fishermen use this type of mount.
You can also use a thru-hull or in-hull mount, which comes with fiberglass or metal hulls that require plastic housings. Steel or aluminum hulls will need stainless steel housings. Fiberglass wood hulls need bronze housings.
The cone angle is extremely important to the transducer; the wider it is, the wider your area of search and information will be. Most portable fish finders will have a cone angle between 16 and 20 degrees. If you are inexperienced and want to fish at different depth levels, then you should make sure the cone angle is 20 degrees.
Transducers can also emit more than one cone. So while many portable fish finders only have the technology to include one cone angle, it might be worth it for you to find a device that has several e.g. dual beam, triple beam, side beam, etc. This is great if you are in a larger body of water e.g. a lake or the ocean.
You can get either a black and white screen or a color screen. Color screens are easier to read and understand but are also pricier.
If you are looking for basic readability, then make sure to get a screen resolution of at least 240 x 160 pixels. Anything more will only enhance your ability to see and read the screen, and become more expensive the higher you go.
Dual, Single, and Multiple Frequencies
Transducers generally work with dual frequencies between 192 and 200 kHz. Any lower and it will not track as well. It is particularly useful for shallow waters but can be used anywhere.
For deeper waters, most use 50 kHz.
For deeper and faster readings, related to the depth of the water, you will want a device with a high wattage unit.
For shallower and slower readings, related to the depth of the water, you will want a lower wattage unit.
This is one of the most important aspects in choosing your portable fish finder, particularly if you ever plan on mounting it on a boat.
Always check the JIS or IPX ratings to determine the level of water resistance the portable fish finder holds.
A five or six rating means that your device can withstand getting wet with low-pressure water. However, a rating of seven means that you can immerse it in 10 feet of water for half an hour.
What is the best fish finder for your money?
The best fish finder that you could ever spend your hard-earned money on is the
Lowrance Hook2 5 with TripleShot Transducer
. While it is on the pricier side than some of these other models, it is a great value for your money. It is easy to use and even easier to set up on the side of your boat or kayak, and contains CHIRP sonar technology that gives you double the range of traditional fish finders.
What is the best Bluetooth fish finder?
The Bluetooth fish finder is on the cheaper side, regarding costs, but the best Bluetooth fish finder is the
ReelSonar iBobber Wireless Bluetooth Fish Finder
. Not only does it use patented sonar technology, with accurate readings down to 135', but it also comes with rechargeable batteries so that you can fish to your heart's content without concerning yourself with batteries. It also comes with two snap swivel connections to use as either a bobble or out in the water, which makes it perfect for use almost anywhere.
What is the best fish finder for kayak fishing?
The best fish finder for kayak fishing is the
Garmin Striker 4
. The Garmin Striker 4 is perfect for kayak fishing as it comes with Garmin CHIRP (77/200 kHz) transducer, which shows you near-photographic images of anything and everything that is surrounding your kayak, to your benefit. It also utilizes CHIRP Sonar technology to create better target separation for crisper fish arches. It also comes with a built-in flasher, so you can view your data right there out on your kayak.
What is the best portable fish finder for shore fishing?
The best portable fish finder for shore fishing is the
Deeper PRO+ Smart Sonar
. This fish finder is perfect for shore fishing as it comes with an embedded GPS system, which allows you to create bathymetric maps while onshore. This enables you to find fish and their hotspots way faster than you ever would on your own, particularly onshore.
It can also help you analyze your surroundings (water depth, temperature, vegetation, hardness, etc) and figure out what you are dealing with – potentially helping you choose different spots on the shore because of the information you get from this device.
What is the best fish finder for a float tube?
The best fish finder for a float tube is the aptly named
Humminbird Fishin' Buddy MAX DI Fishfinder
. This fish finder is great for float tubes because it does not come with any wiring, transducer, or rigging for you to try and wrangle–it is simply a mount on a pole, easily added to any float tube of your choice, with a multi-direction mount. It is easily transported and uses Down Imaging and a Dual Beam Sonar to track fish up to 320 feet below the surface.
What is the best fish finder for ice fishing?
The best fish finder for ice fishing is the
Garmin Striker 4
, a repeat on this list. As with kayak fishing, the Garmin Striker 4 is an attractive fish finder for ice fishing because it is easily transported and contains a dual-beam transducer with Garmin Chirp sonar technology to produce clear images.
Its design also makes it great for extreme weather, which is a factor in ice fishing especially.
Even if you are completely new at recreational fishing and want to take a crack at using a portable fish finder, it is not a difficult process; just time-consuming. All it takes is being patient and taking the time to gather various sources of information, compare it to how you want to fish (onshore or a pier, on a boat or inner tube, etc), and make your decision from there.
Do you want to fish in a shallow lake or a large, deep ocean? Do you enjoy fishing from the shore or off of a kayak or boat? Do you find ice fishing thrilling, yet want to make sure you catch fish this year? All of these questions are important and can be answered with a little research.
There are so many different types of portable fish finders that you can buy e.g. Portable Units, Castable, and Mountable. Each serves their own purpose to you and are made equally important. Yet the best fish finder is particularly the portable fish finder, or the castable fish finder, or even the mountable fish finder – it's all about what suits the situation you will find yourself in, as you are fishing.