When I was researching for cool gadgets  I have found one I really like: Sonos Introductory Bundle BU250 – ZP90, ZP120 & Touch Screen Controller.
Wireless Multi-Room Music System that gives you everything you need to play and control music in two rooms of your house. The bundle includes two Sonos ZonePlayers and a dedicated, handheld Sonos Controller. Connect the ZP90 to your home cinema, stereo or powered speakers. Attach speakers to the ZP120 with built-in amplifier and place in any room where you want music. Now grab a Sonos Controller and simply pick a room, pick a song and touch play.
Sonos ZonePlayers
ZonePlayers are wireless music players that distribute and play all the music you want, all over your house. ZonePlayers can go in absolutely any room where you want music — either connected to speakers or to your existing audio equipment.
The amplified ZonePlayer 120 (ZP120) has a built-in 55W per channel digital amplifier. Just add speakers to bring superior audio quality to any room.
The non-amplified ZonePlayer 90 (ZP90) connects directly to your home cinema receiver, stereo system and more, so you can instantly add music to the audio equipment you already own.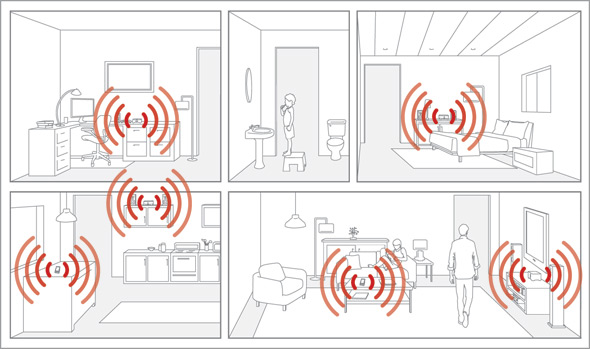 Sonos Controllers
Sonos Controllers let you control all your music and all your rooms from anywhere in the house. Wirelessly and instantly access your personal music library stored on your computer, plus thousands of free Internet radio stations and the most popular online music services. Mix and match Controllers for the ultimate in flexibility.
Sonos Controller 200 (CR200)
Dedicated wireless Controller with full-colour VGA display and ultra-responsive touch screen. Pick it up or touch the screen and it's instantly on, ready to play your music. Dedicated Mute, Volume and Zones buttons get you to the functions you use most. Includes a Sonos Charging Cradle and removable battery.
Sonos Controller for iPhone
Free app that turns your iPhone™ or iPod® touch into a full-fledged Sonos Controller. Download the app on the iTunes App Store.
Sonos Controller for Mac or PC
Free software that lets you control your entire Sonos system from any desktop or laptop computer in your house. The software, available for both Mac and PC, is included with every ZonePlayer.
Pricing and availability
The Sonos Introductory Bundle BU250 – ZP90, ZP120 & Touch Screen Controller is not a cheap gadget. It's price tag? £799.00 and you can find it at AdvancedMP3Players.co.uk.