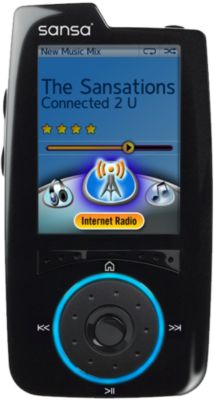 SanDisk CONNECT SDMX8N4096R 4GB MP3 player
Quick. Whats the first thing that comes to mind when we say: SanDisk Connecttrade? Answer: mobility. Exactly right.
Mobility is the theme of your new SanDisk Sansa#174 Series Connecttrade portable media player.
Supporting MP3, WMA and AAC compressed audio formats, your Connecttrade player gives you the ability to take more music (in less space) wherever you go. JPEG photo display capability and a 2.2
QVGA screen deliver the freedom to bring and view your photos anywhere, too.
Four Gigabytes of memory provide you with the ability to store up to 1,000 MP3 or 675 WMA songs, and a MicroSDtrade memory card compatibility expands that carrying capacity, infinitely.
Wi-Fi wireless internet network capability allows you to access music and photos anywhere you can get on the internet. Finally, a lithium-ion battery provides the longest power-supply capacity, with the least weight, for extended mobility.